Visiomode
An open-source platform for touchscreen-based visuomotor tasks in rodents.
Learn More
What is Visiomode?
Visiomode is an open-source platform for rodent touchscreen-based visuomotor tasks. It has been designed to promote the use of touchscreens as an accessible option for implementing a variety of visual task paradigms, with flexibility, low-cost and ease-of-use in mind.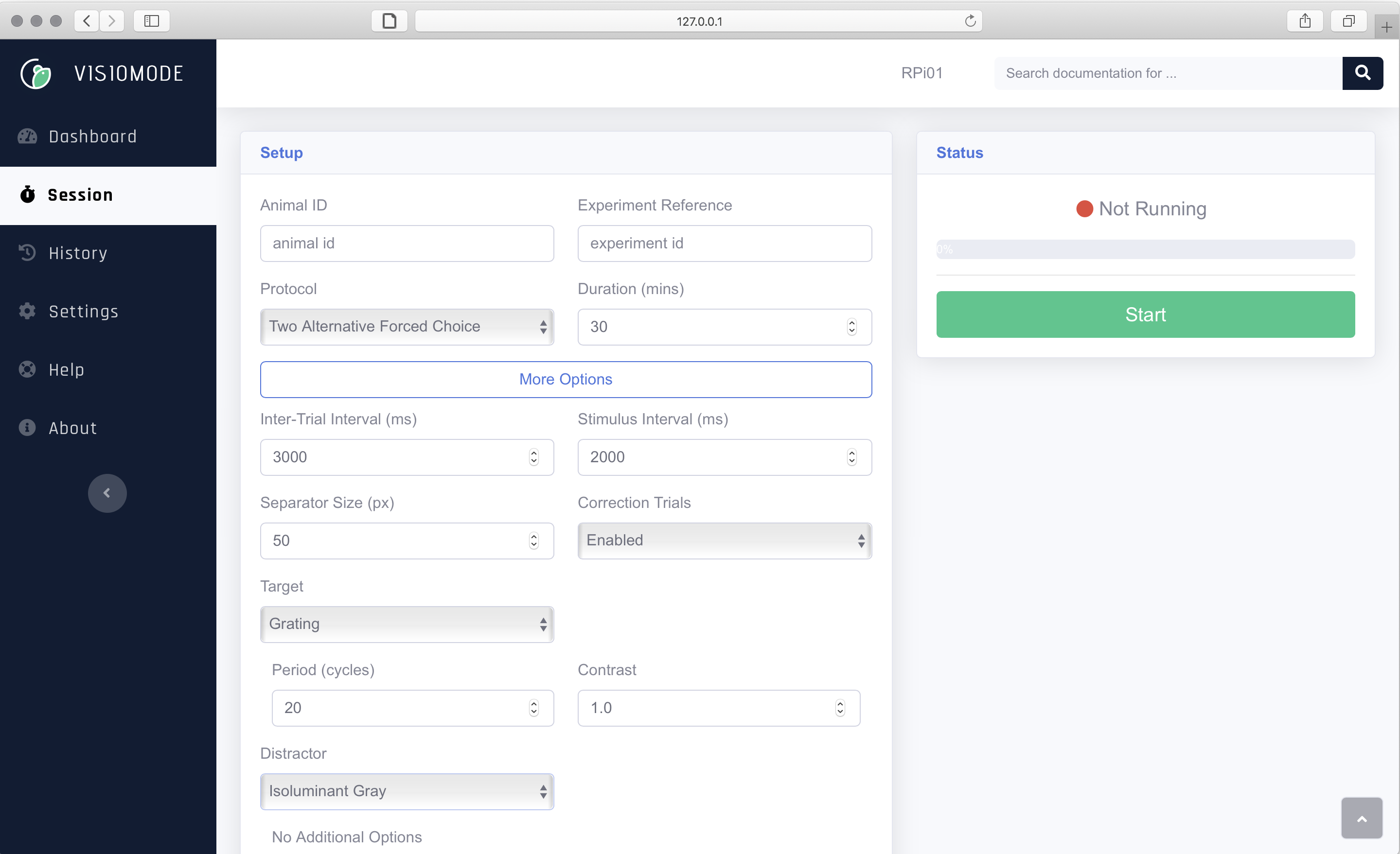 A Flexible Platform for Visuomotor Experiments
Visiomode is designed for the popular Raspberry Pi computer, and provides the user with an intuitive web interface to design and manage experiments. It can be deployed as a stand-alone cognitive testing solution in both freely-moving and head-restrained environments.
Download
Features
Visiomode provides an open software platform for building touchscreen-based tasks. Everything is designed to run on cheap and readily available electronics.
Web-Based Interface
Accessible web-based UI for researchers to design and run experiments. Web interface can be accessed from any computer on the same network as the machine running Visiomode.
Customisable
Flexible plugin system allows for easily extending the available experimental paradigms on the fly, without having to recompile or reinstall the software.
Adaptable
Ability to incorporate USB microcontrollers to act as input or output peripherals in different experimental protocols.
Data Compatibility
Visiomode is fully compatible with the Neurodata Without Borders ecosystem for neurophysiology.
Open Source
With Visiomode, we wanted to create a truly accessible platform for building touchscreen-based tasks for rodents. That's why we have made all the source code available on Github, and have published documentation on how to use, build and extend the platform. We have purposefully sought out widely available hardware for our freely-moving arenas, in an effort to minimise the cost associated with using touchscreen technologies in research.

If you encounter an issue with the software platform, please get in touch by email or submit an issue on Github!
About
Visiomode is developed by Constantinos Eleftheriou at the Duguid Lab. This work is funded by the Simon's Initiative for the Developing brain, the Wellcome Trust and the University of Edinburgh.